This is a free blogger opp I found for all you, all of my awesome Lucky Emerald's readers! For helping to promote this cash giveaway, you will get a Facebook or Twitter link for FREE! You can also get additional links and even daily Picket Fence votes for a nominal fee, see below for the rates! Another thing you need to do is sign up with Instant Bucks. It's free to sign up! I checked it out this morning and it looks pretty neat! It's easy to sign up and it functions kind of like Superpoints. You complete easy tasks for "Bucks", then you save those up for rewards. Easy, peasy, Japenesey! LOL
So, go ahead and click the link below to go to the sign up page for this free blogger opp! If you're going to sign up for this, make sure you follow through with posting it and promoting the giveaway at least 4 times week! Thanks dear readers!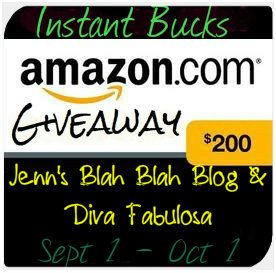 Instant Bucks $200 Amazon Blast
Are you ready for another fabulous giveaway! This time Instant Bucks will be sponsoring this fabulous event, offering our readers a $200 Amazon Gift Card!
Event is sponsored by
Jenn's Blah Blah Blog
and
Diva Fabulosa
! If you have not signed up with Instant Bucks, do it now! They are new, and you will love them, similar to Superpoints,
CLICK HERE TO SIGN UP!
Join us and offer your readers this fabulous prize! What do you get for helping us promote? Event will run from Sept. 1, 2012 until Oct 1, 2012! Plenty of time for all of your readers to enter this fabulous event!
FREE Facebook or Twitter Link
Additional Links $2
Daily Picket Fence Votes $3
Learn more about this wonderful Amazon Giveaway.
When you repost, please change some of the words for SEO reasons! If you need a sample post to go by, CLICK HERE TO GET IT. To sign up for this event, CLICK HERE!
Good luck everyone!
Until next time.
Hugs,