Every Tuesday, I will be featuring a new kid's craft here on my blog! They will be easy and inexpensive, and will be for kids of any age! If I find a craft project that is primarily for older children, I will include a project for the little ones as well!
Today, we will be making:
Easy Pretzel Bird Feeders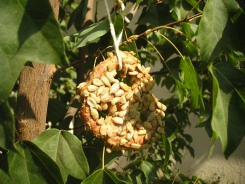 Photo courtesy of busybeekidscrafts.com
You will need:
Large Pretzel
Peanut Butter (and something to spread it with!)
Sunflower Nuts or seeds
Yarn
Paper Plate
1. Cover your pretzel with peanut butter.
2. Pour the sunflower nuts or seeds onto the paper plate and press both sides of the pretzel onto the seeds so that they stick to the peanut butter all over the pretzel.
3. Thread the yarn through one of the holes in the pretzel and hang it from your favorite tree.
If you'd like to make 2 or more of these, you can separate them by stringing Cheerio's onto the yarn!
Craft project for ages 2 and up!
And now for the older kids:
Easy Water Bottle Bird Feeder
You will need:
Clear plastic bottle (water bottle or a 2 liter soda bottle works well too!)
2 Wooden spoons
Plastic container slightly larger than the bottle
Wire or string
Utility knife
Funnel
Bird Seed
Here's how you make it: (Instructions courtesy of
http://www.bird-feeder-plans.org
)
1. Cut a hole about 1/4 of the way up the bottle. Make sure the hole is just big enough for the wooden spoon handle to fit in.
2. Make another hole directly opposite the first hole (on the other side) about the size of a nickel.
3. Turn the bottle 90 degrees and about 1/2 way up the bottle repeat steps 1 and 2 making a small hole on one side and a nickel sized hole on the other.
4. Into these holes, insert your perches (the wooden spoons), The handles should be put into the nickel size hole and come out the small hole on the other side. This should leave the spoon end hanging out of the nickel sized hole.
5, Using the utility knife, make 2 small holes at the top of the bottle. Feed your wire or string through the 2 holes for your hanger.
6. Using a funnel, pour your choice of bird seed into the bottle.
7. Hang your feeder off the ground but make sure it's accessible so you can refill it later.