I stumbled upon this giveaway this morning and, like every other time I see a Coach Purse giveaway, I jumped on it! I have wanted one for a very long time but I know the chances of winning these things are much like winning the lottery! I have had quite a bit of luck in winning a lot of the smaller giveaways though so I figure, what the heck! It only takes a minute or 2 of my time to enter! This is the Coach Purse I would win! It's worth $298!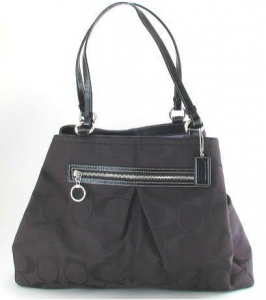 This giveaway is a little different though. There's a second prize involved, and that's where you come in. They are giving away a $50 gift card to the person who gets the most referrals! There is a spot on the rafflecopter that asks, "Who referred you?" So, I'm asking all my loyal readers to take a chance and enter to win that Coach Purse and kindly enter my name as the referrer! Please enter Tammy Allgood-Hemmerling on the rafflecopter!
Just click this
LINK
to get to the giveaway page. It's an easy contest to enter, nothing fancy to do for it. Come on, you've got nothing to lose! And I could really use the $50! Thanks guys, and if you would leave a comment on this post if you did this I would appreciate it!
Hugs,